EnterpriseOne Orchestrator Training
Put the power of EnterpriseOne Orchestrator at your team's fingertips with live, hands on training workshops…
…and in just 2 days, they will discover how to build data integrations and automate business processes without having to write a single line of code!
"Taking a JD Edwards EnterpriseOne Orchestrator class from Larry Furino is like taking an astronomy class from Galileo. Larry has been there since Orchestrator Version 1. He's written Orchestrator plug-in utilities. He has passed the Oracle Validated Integration process. Most importantly, Larry has that rare mix of business and technical acumen that's critical for putting the technology to good use. And having copresented with him, I can say that Larry is a great communicator."
–AJ Schifano, Senior Product Manager,
Oracle's JD Edwards EnterpriseOne
Transform Your Business Analysts Into Citizen Developers
At our workshops, your business analysts will obtain hands on experience enabling them to design, build, and test orchestrations using standard JDE functionality you already own. By leveraging the EnterpriseOne Orchestrator, business analysts will learn how to create complex data integrations and automate manual business processes, allowing them to relieve the burden placed on traditional IT developers.
Your team will become citizen developers by learning how to create orchestrations in hours instead of the days or weeks required to build comparable customizations using traditional methods.
You can be assured your data integrity is maintained because orchestrations work at the application level. This guarantees all data validation is performed by the same business functions as a user manually entering information into a JDE application. All orchestrations inherit standard JDE application and row security. UDO security is configured to control which users have access to create or invoke each orchestration.
Furthermore, all orchestrations are guaranteed to be upgradable because they are created as user defined objects that never have to be rewritten.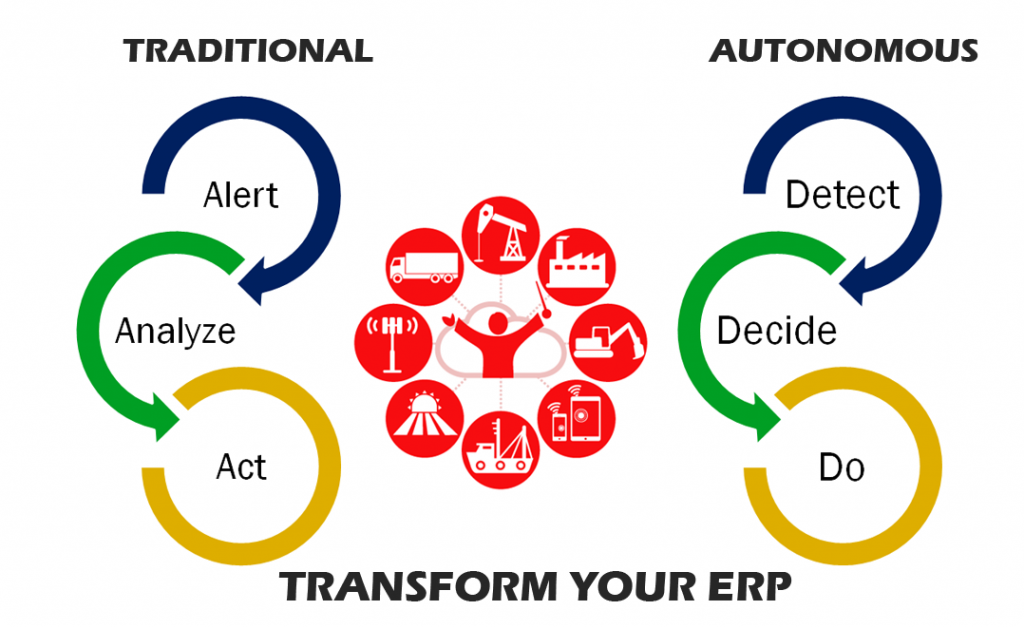 What Your Team Will Receive From The Workshop
Over 20 hours instructor-led EnterpriseOne training where attendees will learn ACBM Solutions's step by step method to create their own integrations and business process automations without writing a single line of code.
Over 150 pages of printed and bound exercises to guide the EnterpriseOne Orchestrator training.
Access to the ACBM Solution's JD Edwards training environment with Tools release 9.2.4.3. Attendees will have the ability to export all orchestrations they create and import them into their company's JD Edwards EnterpriseOne environment.
ACBM will provide a conference room with internet access.
Breakfast, lunch, and snacks are provided.
All you need is a computer and your functional knowledge of JD Edwards.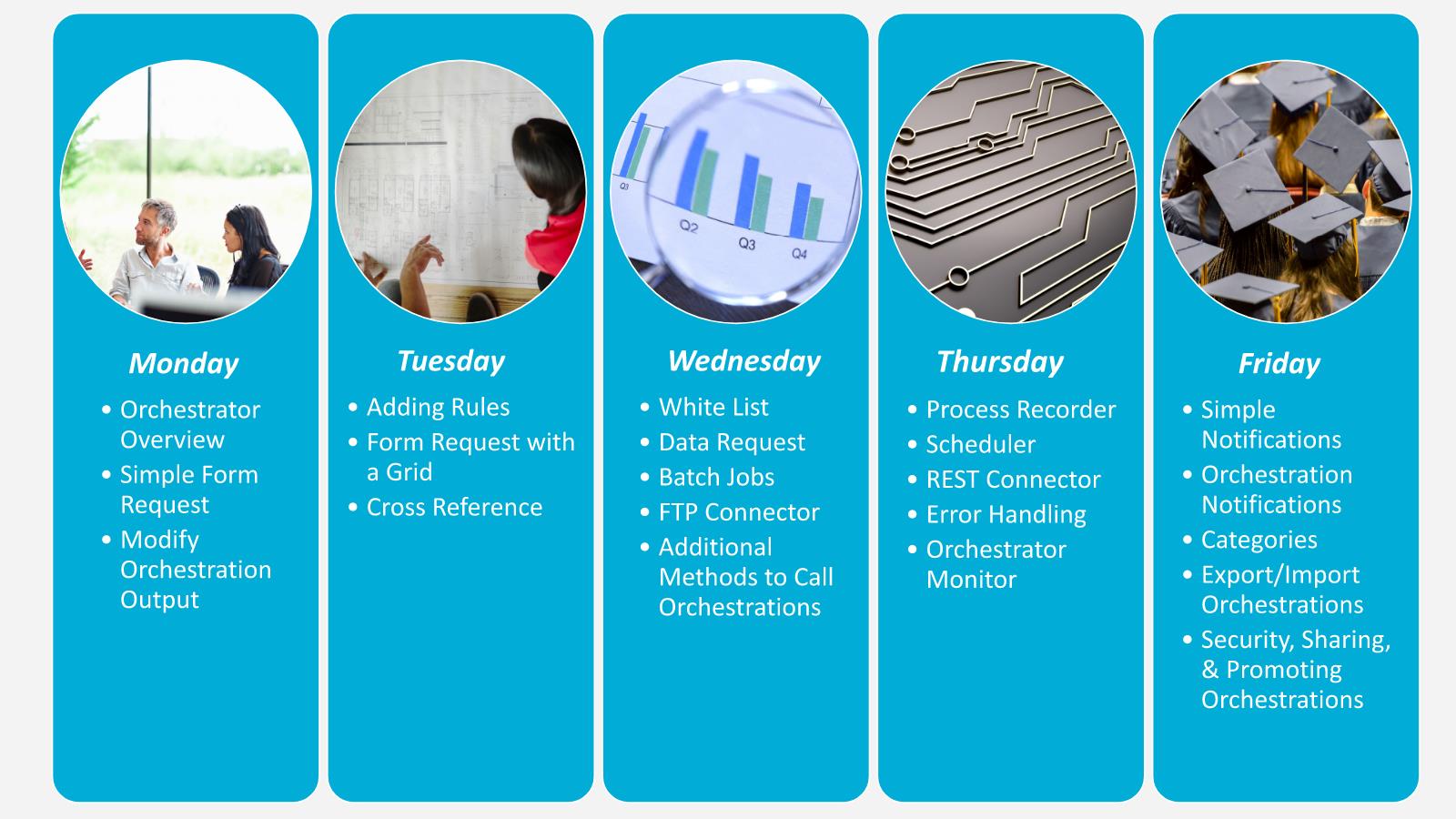 Three Options to Fit Your Schedule
We offer three options for your convenience so you can accommodate your team's availability.
In Person Public workshops are available in four regions around the United States, once per quarter. With this option, you share the learning experience with other companies in a live setting. These workshops are limited to twelve total attendees.
Virtual Public workshops are scheduled every other month remotely, so you don't have to leave your office. Please note: these workshops are broken up into four half days, rather than 2 full days and are limited to nine total attendees.
In Person Private workshops are for organizations who want to train a larger number of business analysts at their location. These are scheduled in between the Public workshops.
To see which option would be right for your company, refer to the chart below. If you still have questions, feel free to contact us.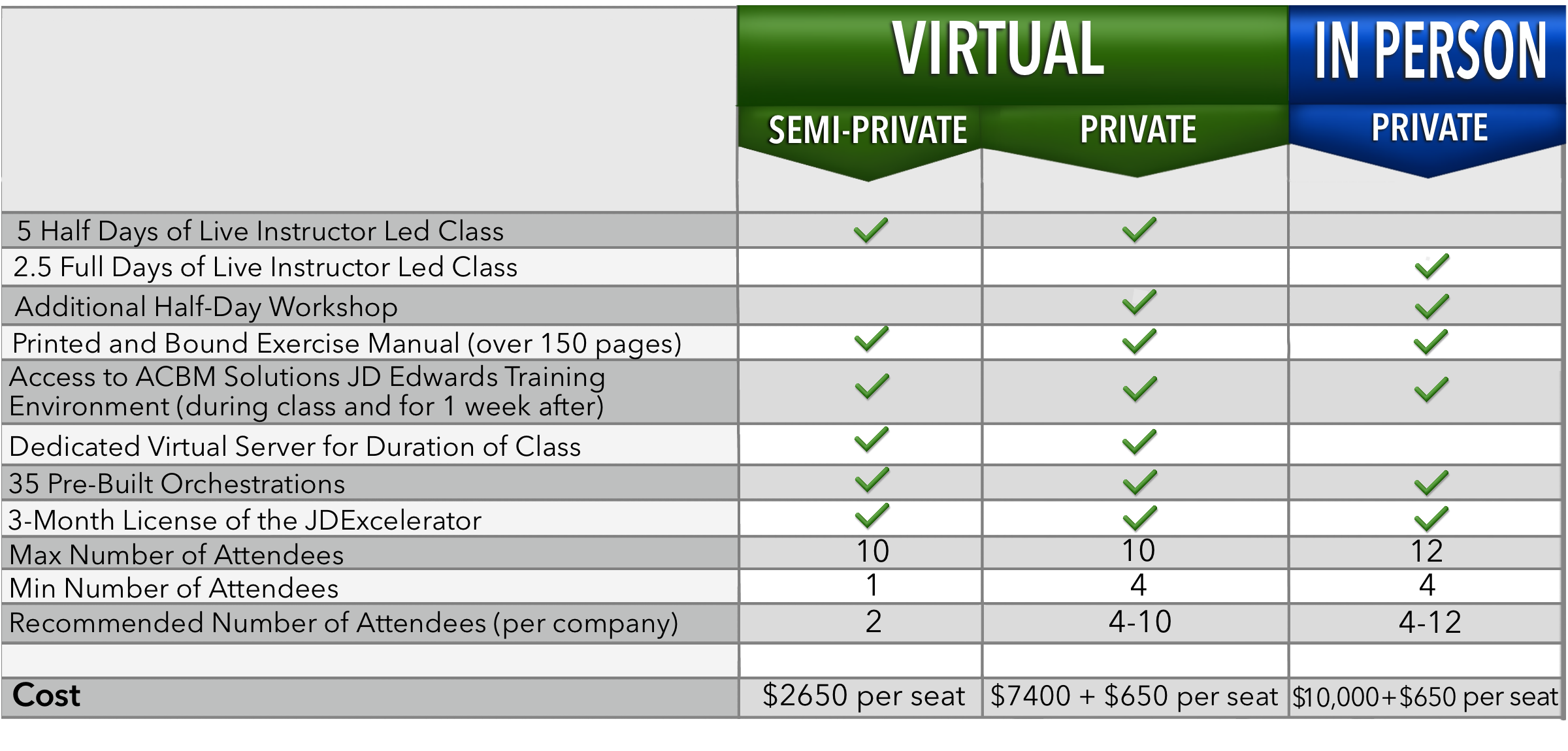 To reserve your seat or for more information on an upcoming workshop, fill in the form below. We'll get back to you within 1 business day.
Special Bonus: 35 Ready to Run Orchestrations
At the conclusion of the workshop, we'll send each company who attends 35 pre-built, ready to run Orchestrations.
These Orchestrations include General Ledger, Accounts Payable, Accounts Receivable, Fixed Assets, Real Estate, Inventory, Purchasing, Sales Orders, Work Orders and HR/Payroll.
With just a few minor tweaks you'll be leveraging the power of these Orchestrations on your environment in a matter of minutes.
Bonus #2: Each training attendee will also receive a complimentary three month license of the JDExcelerator.
The JDExcelerator is an Excel Add-In which allows end users to invoke any JD Edwards EnterpriseOne Orchestration from Excel. The JDExcelerator is commonly used to automate bulk data entry (add, update, delete) of master and transactional data. In addition, the JDExcelerator can be used to automate more complex business processes including the execution of web service integrations. It can even be used to pass data selection and processing options to call multiple batch applications and e-mail the reports to a distribution list all maintained in Excel!
After the complimentary license expires, all of our training alumni will continue to receive a $100 off of an annual license.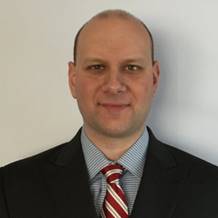 All Workshops Are Taught By Larry Furino
Larry is the founder and President of ACBM Solutions and has been using the Orchestrator since its genesis. A functional consultant for over 13 years, Larry has built hundreds of orchestrations for various industries and is considered the go to expert when it comes to the EnterpriseOne Orchestrator.
Examples of orchestrations Larry has built include:
Real time billing and invoicing
Customer, vendor, and address book management from CRM systems (SalesForce, Oracle Sales Cloud, SugarCRM…)
Add and update item master and item branch/plant
Add and update bill of materials (BOM)
Meter readings from fixed and mobile asets
Equipment GPS location
Condition based alerts
Create purchase orders and stock transfers
Create leases
The curriculum for this workshop was designed based on Larry's real world experience, creating real orchestrations for real companies.
The Investment
The investment for the workshop includes 20 hours of instruction, over 125 page training manual, 35 pre-built orchestrations, and a 3 month license of the JDExcelerator.
You will leave the workshop with the ability to start writing Orchestrations immediately and shave weeks off your development lifecycle. This enables you to spend more time doing value added jobs while building the foundation in your organization for growth.
Fill out the form below now to contact us and explore the right option for your company.
Frequently Asked Questions
Q: Who should attend this workshop?
A: This workshop has been designed from the ground up to give those without any development experience the ability to create data integrations and business process automations using the EntepriseOne Orchestrator. Therefore, business analysts will benefit the most by leveraging their functional knowledge of JD Edwards.
Q: What version of JD Edwards EnterpriseOne does my company need to be running?
A: Your company needs to be running EnterpriseOne tools release 9.1.5.5 or above. However, version 9.2.0.2 or above is highly recommended. Applications 9.0, 9.1, and 9.2 all support valid tools releases.
Q: Can more than 2 attendees per company participate in the workshop?
A: We limit the workshop to 12 total attendees so everyone can experience personalized attention from Larry. If you want to register more than 2 attendees for a workshop, its on a space avaible basis.
Q: Can you do a personal workshop for our company?
A: Yes, we can provide personalized workshops for your company. Use the contact form for more information.