Guidance for Chart of Accounts Design & Conversion
ACBM
Apr 14, 2021 7:15:00 AM
Is your Chart of Accounts (COA) streamlined and easy to use, or is it a mess that makes it difficult to close your books and get reports to stakeholders each month? If there is a problem, what can you do to fix it? How will things be better for your organization when your COA is properly designed?
A COA is an integral part of the financial accounting system. A design and conversion project can be costly, however having a properly structured COA can deliver a massive ROI. Over the years, I've completed countless COA design projects for clients using JDE and other ERPs. Being able to speak the languages of both Accounting and IT has provided a unique perspective when it comes to designing master data.
Here's my advice on best practices.


Common COA Mistakes
Organizations run into trouble when they view their COA as a static, flat repository of numbers to group similar transactions. It becomes bloated and complex over time instead of staying streamlined as it scales. Here are a few symptoms of a COA that hasn't been properly designed:
Categorization is done at the transaction level
Cat Codes drive reporting
You run out of object account numbers
Dependency on subsidiaries
All posting accounts are at the same level of detail
You don't have multiple models
Postable summary accounts
You face complexity in dealing with allocations
One key warning sign of a poorly designed system is if you have to go in and update a dozen reports after GL Account/Business Unit changes. In fact, the primary goal when designing a COA should be to facilitate reporting.
Why? A well-defined, uniform COA mimics and facilitates financials. It allows you to have unlimited growth as the business changes over time. It provides simplified account maintenance and reduces report maintenance to the absolute minimum.

Additional Benefits of a Well-Designed COA
When companies, business units, objects, subsidiaries, and subledger fields are properly defined:
The reports can leverage them and become self-maintaining
Integrations are simplified
Allocations become streamlined and automated
Reports are more accurate with fewer reconciling items
What does this translate to for Accounting teams? You can shave days off the time spent on closing books each month.
At a very high level, these are the best practices I recommend for COA Design...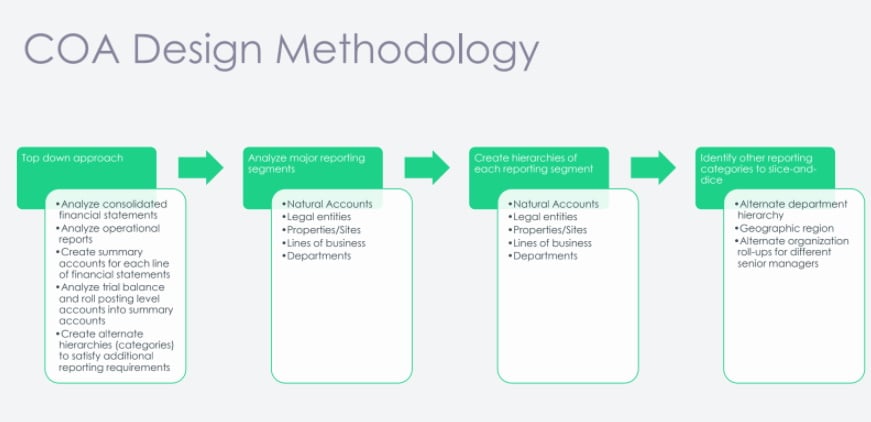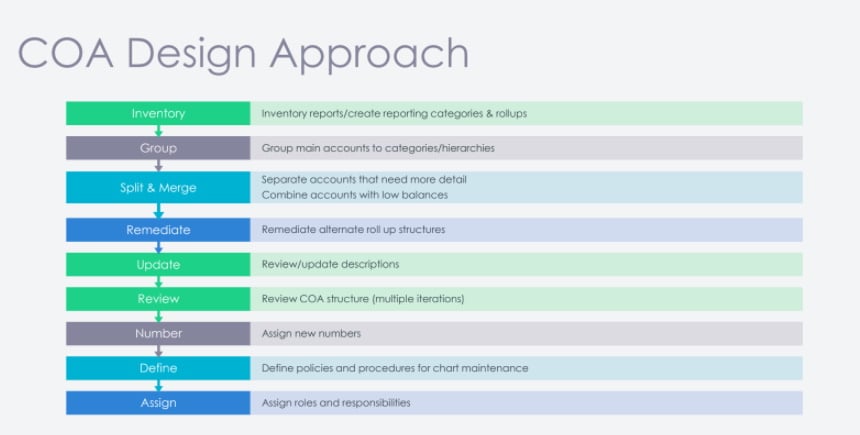 Charting everything out visually to identify areas of growth is another best practice. Insperity has a great tool to help facilitate this at OrgPlus.
Here's a quick example of a COA org chart: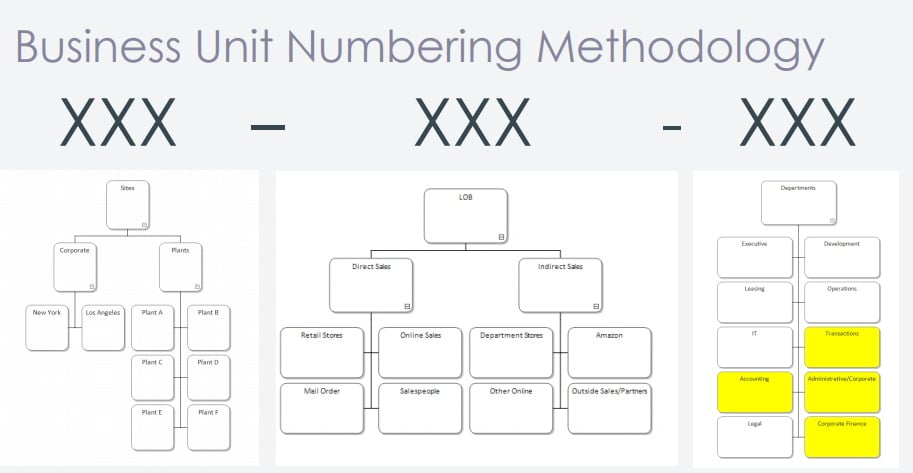 Here are some additional tips for getting it right:
Align non-posting accounts to match your consolidated financial statements
End all non-posting accounts with 0
Use odd numbers for postable accounts (so you have room to grow later)
Leave space at the end of each range
Use Level of Detail 8 and 9 (if needed)
Define Models


What about COA Conversion?
Design is actually the faster and less expensive phase of a COA project (2-3 months). Converting from your old system to the new one takes far more time and effort (4-6 months). Data migration can make the process much more complex compared to a conversion "in-place." However, using the Orchestrator in JDE can reduce the cost by 60-75% in some cases.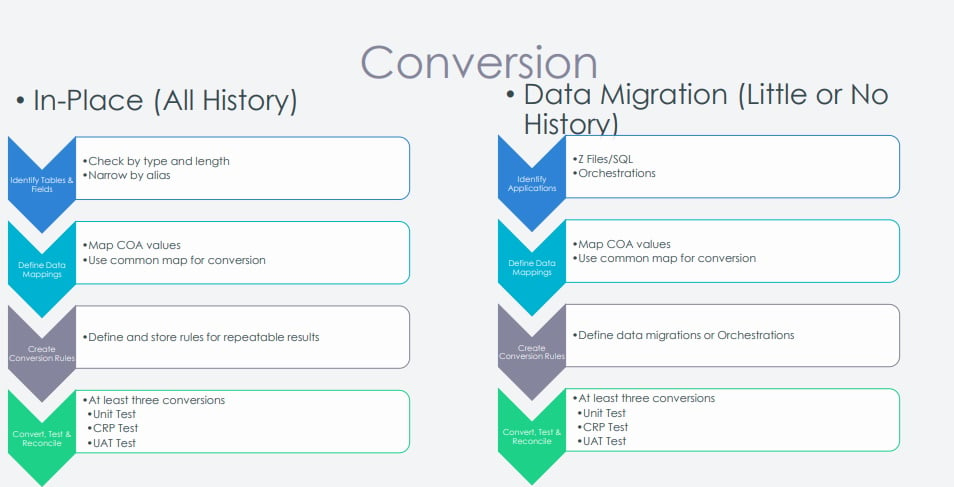 Why Outsource Your a COA Design and Conversion to ACBM?
We bring a fresh perspective and solve problems in new ways that are more robust, efficient, and practical. We let the reporting requirements guide the design and reverse engineer from there. It may sound unusual, but it works very well in practice. This approach means we build exactly what is needed, organizing and arranging the accounts in different segments that facilitate the desired reporting while leaving maximum flexibility for growth and future changes. This cuts down on the overhead and input from stakeholders--since all they really care about is getting the reports they need out of the system.

If you are considering updating and streamlining your COA to make it work for your organization, contact us for a conversation.