Digital Transformation with the JDE Orchestrator
ACBM
May 7, 2021 1:15:29 PM
How JDE Orchestrator Plays a Role in Achieving Digital Transformation
Digital transformation is something every organization wants...but everyone seems to have a different definition of what it is or what it does. As long as it remains a nebulous concept, it can't be effectively implemented. At ACBM, we look at this topic through the lens of the JDE EnterpriseOne Orchestrator because it gives us a very practical way to explore digital transformation through better data Availability, Quality, and Integrity.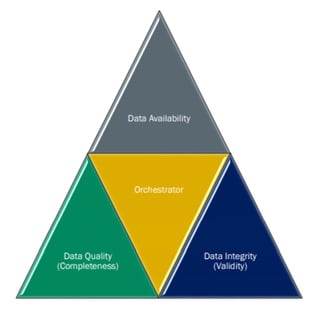 Orchestrating Availability and Quality
Data Availability means ensuring you can obtain data from disparate sources and socialize a variety of apps so that everything is available in real time to accelerate business processes. Whenever there is data coming from an external source, whether it's IoT, a third party application, or user data in an Excel spreadsheet, it can be immediately delivered into JDE via the Orchestrator.
Data Quality involves minimizing or eliminating human interaction with the data as it travels from point A to point B, guaranteeing an accurate representation of the data in the system. This is a high priority for an ERP since this system should serve as a single source of truth for the business. Before the Orchestrator and similar tools became available, users would extract, transform, or manipulate data and then load it into the ERP. This manual process created an opportunity for failure due to typos, accidental deletions, and other errors. Using the Orchestrator ensures that there is no degradation of data quality as it passes through each system.
These first two characteristics are not unique to the Orchestrator. There are many tools that can obtain and integrate data. Availability and Quality are simply prerequisites for any digital transformation technology. What does make the JD Edwards EnterpriseOne Orchestrator unique is its ability to ensure Data Integrity. Other approaches simply don't achieve this. Here's why.
Issues with Data Integrity in JDE Using Other Tools and Methods
With integrations that communicate data between JDE and other systems, there are several ways to handle the data. Some tools on the market directly inject SQL into tables. This approach is inadvisable since it can break integrity with other tables. We caution clients to stay away from doing anything at the table and field level. It's a bad idea and may even violate the terms of your agreement with Oracle.
JDE does provide Z tables or interface tables that have some utility. These are staging areas where you can load data into a table and run the app that adds it to the real JDE table. There is a lot of validation inherent in this approach. However, Z files have several drawbacks:
They must run in batches (not real time or interactive)
They don't exist everywhere for standard apps (only in limited places)
They don't exist for custom applications or scenarios (and custom development is costly and time consuming)
They don't do everything you need them to do (only predefined functions)
As an example, with fixed assets you can load master records but not the associated cost. That would require a separate journal entry Z file. You would have to put it in a Z file, run a program, create another upload to the journal entry Z file, upload all of those, approve and post them, etc. That's a lengthy, manual, error prone process.
Business services are a better option for interoperability and work at the business function level. This approach is fast and does have a lot of validation. Unfortunately, it doesn't have the same amount of validation for data integrity at the application level. Working with business services can also be very labor-intensive for developers.
There is a better way to handle integration.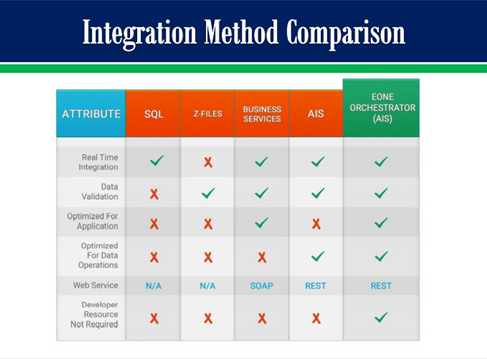 The Orchestrator Is the BEST Choice for Maintaining Data Integrity
The Orchestrator works at the application level rather than the business function or database level. It automatically inherits all the benefits and validation built into JDE with no extra effort. This includes security, prepopulation of fields, and validation of fields and lookups. The data integrity is guaranteed to be maintained. It emerges as the clear choice for maximum integrity.
How easily can you build what you need? What might take developers two weeks to build with business services takes about four hours with the Orchestrator. That's a serious consideration for making digital transformation happen sooner rather than later.
Ready to build integrations to transform your business in the digital age? Contact our team to get started.